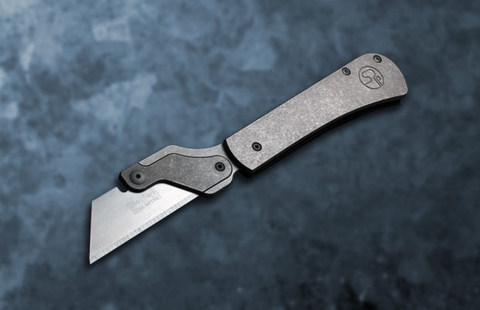 Serge Panchenko is bringing a new folder to his Serge Knives Inc. production line. It's called the Slipjoint Razor, and is just that: a riff on the utility razor, elevated to modern EDC standards and sporting the standout Panchenko steampunk aesthetic.

Panchenko's folding knife work has almost always centered around luxuriously finished, smaller blades, so it makes sense that he would take a crack at the utility razor; it's a niche genre that appeals to technical designers as well as those who like compact EDCs. It seems silly to mention the blade shape of these ubiquitous razors, but you get a wharncliffe-style blade, with a precise point and a straight edge; best used for opening boxes or quickly snipping things, but with the amount of edge the Slipjoint Razor leaves exposed, you could flex this knife into some medium cutting chores too.

The razor blade is held in place by an arm that comprises the folding part of the design. A screwdriver is required to remove the blade for replacement. Although it doesn't have a nail mark, the Slipjoint Razor is opened with two hands, in a pinch style, much like a traditional.

And, although it is by no means a traditional, the Slipjoint Razor's handle does have the bowed shape of a Sodbuster. It's a handle design we've seen from Panchenko before on the Serge Knives Inc. slipjoints. The knife's non-locking nature means that the handle scales can be identical on both sides, and users have their choice between several colors of G-10 and titanium. The Slipjoint Razor comes with a non-reversible titanium pocket clip.

This isn't the first time that Panchenko has worked with the utility razor idea, although his previous efforts in that arena were custom pieces. The first run of the Slipjoint Razor came in this week, and more are expected in the near future.
The article is shared from Internet...
knifeglobal:
https ://knifeglobal.com