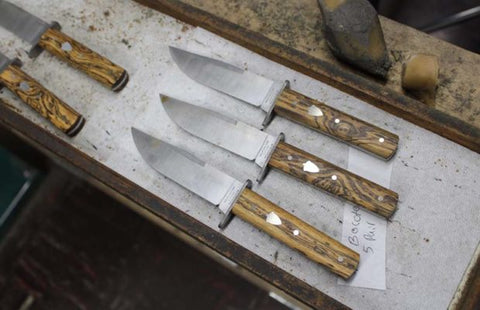 The Titusville, PA-based traditional maestros at Great Eastern Cutlery are readying a fresh batch of the H30 and H40, two hunting-style fixed blade models.
Both of these Hunter models are no-frills hunting knives in the classic mode. To that end, they both have a very traditional clip point blade shape, with a very mild clip to their tips. This consideration gives these knives necessary piercing capabilities while minimizing the chances of accidental punctures during field dressing. The generalized blade shape can also be fairly easily flexed into a general purpose outdoors role, too, suitable for everything short of chopping and batoning.
The difference between the two Hunter models comes down to blade length: the H30 is a little smaller, with a blade length of 4 inches, while the H40 runs to 4.5 inches in length. There are certainly specific scenarios where that half-inch difference will be key, but for most users the decision between the two (or the choice to acquire both) will come down to personal preference. GEC created both models with 1095 steel – which, as a carbon steel, will be subject to corrosion and staining in a hunting role; but this is probably something that most owners will welcome if they're intending on using their knife.
Beneath the H30 and H40's finger guards we see thoroughly basic, rectangular handle shapes. If there's anything unusual or remarkable about them, it's in the acorn-style shield on the show side scales – a detail associated with slipjoint folders, not fixed blades. Users will be able to choose between two different woods for the material of the scales themselves: bocote or cocobolo. Gec opted for leather instead of Kydex for the sheaths on both Hunter models.
This Hunter release will mark the first time the knives have been available since 2019, and the first time ever they've been available in cocobolo and bocote. As with most knives that GEC releases, they'll be in limited supply and are likely to get snapped up quickly, so keep your eyes peeled for them if you're interested. GEC hasn't given a hard release date yet but says to expect them soon.