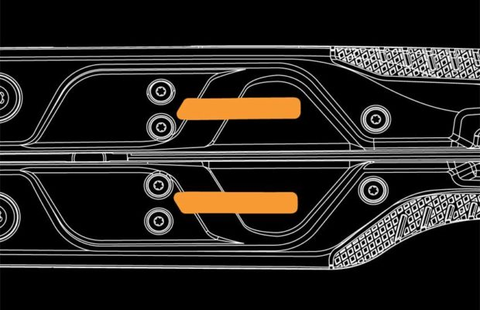 One of Gerber's most unusual 2021 releases, the Doubledown, will soon be widely available. The Doubledown is an outdoors knife that takes advantage of the balisong form factor to create a uniquely rugged folder.

The business end of the Doubledown is an imposingly broad drop point, running to 6.75 inches in length. Made from 420HC steel, this blade has a noticeable recurve and oversized jimping on the spine, running from the center of the blade out to the tip. It's actually not made for your fingers, but rather to help transfer force through to the edge during batoning. Because despite its folding nature, the Doubledown is a blade optimized for hard outdoors work: Gerber doesn't shy away from advertising its capacity for batoning, whittling, and chopping.

There are lots of balisong fans who will tell you the knife has one of the strongest folding mechanisms available. Maybe that's why Gerber decided to start with a bali-style handle when designing the Doubledown; whatever their reason, they went a step further and outfitted it with what they're calling the QuadLock mechanism. This patent pending lock secures the Doubledown in the open position with two steel arms, one in each handle half; users manipulate the these arms by pressing down on two exposed tabs. In addition to locking in the open and closed positions, the QuadLock stops when partially closed, giving users the chance to clear their fingers from the blade channel before closing the knife completely.

Nobody will be surprised to hear the Doubledown is not configured for in-pocket carry, and does not have a clip – nor would you want one. This is a massive knife, with a total weight of more than a pound; it is meant to be carried in the included belt- and MOLLE-compatible Nylon sheath.