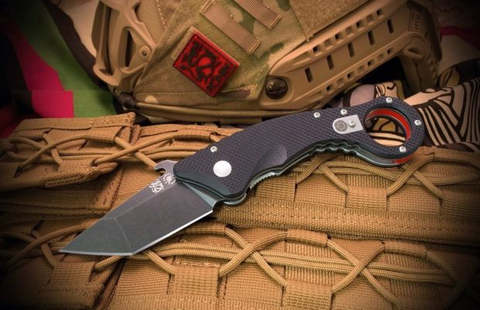 Spartan Blades teamed up with Tu Lam of Ronin Tactics for the new Spartan-Ronin Shoto. The Shoto is a compact karambit-style knife, kitted out with a Japanese blade shape and modern tactical features.

On one hand, it could be controversial to call the Shoto a karambit; after all, it doesn't have the traditional hawkbill blade shape. Instead, Spartan and Lam outfitted it with a 2.5-inch tanto blade. This is a tanto in the American style, with two distinct cutting edges. The shape offers obvious benefits for tactically-oriented knives, prioritizing piercing capabilities compared to more generalized, EDC-style geometries. The opening method is also a tactical staple: an Emerson Wave pocket hook opens the blade as it is retrieved from the user's pocket.

The Shoto is the latest model in Spartan's Bronze Grade line. This line, originally debuted under the Field Grade name, departs from the main, domestically-produced Spartan models; Bronze Grade knives are made with overseas partners and designed to hit a lower price point than the core Spartan releases. But even with the Bronze Grade designation, it is worth noting that the Shoto packs premium blade steel: CTS-XHP, which arguably offers better performance than the S35VN on the U.S.-made folders.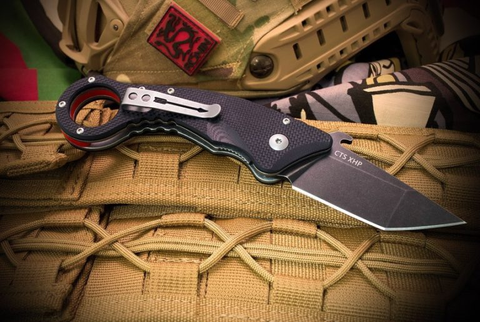 The Shoto is an untraditional to the karambit
Blade shape caveat aside, the Shoto's handle is clearly karambit-like. It curves notably from fore to aft, is very compact, and ends in a big finger ring. Like most karambits, the Shoto is designed to be held in a reverse grip, with the blade pointing down rather than up. The Shoto is a liner lock, which does impart some handedness to the knife; that being said, its loop over pocket clip is reversible. In combination with the ambidextrous opening mechanism, this is a fairly lefty-friendly design.

Tu Lam, the design collaborator on the Shoto, is the owner of Ronin Tactics, a purveyor of military and police gear. Lam also designed the Shinto fixed blade for Spartan, and is actually the inspiration for a character in the battle royale game Call of Duty: Warzone.
The article is shared from Internet...
knifeglobal:
https ://knifeglobal.com