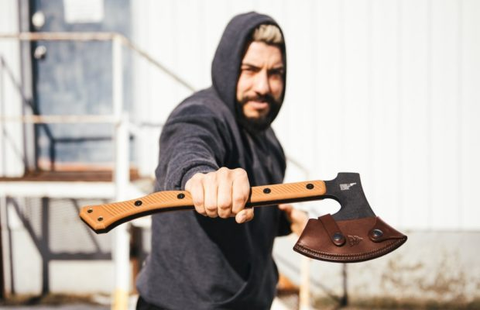 The string of TOPS releases continues with the High Impact, a new axe from the mind of company CEO Leo Espinoza. The High Impact earns its name through a maximalist construction that dials up the hatchet concept as far as it can go.

Espinoza gave the High Impact a blade length of 5.75 inches, but that doesn't tell the full story here. The axe's overall length is the big draw: at over 20 inches long, and fashioned from a single piece of .38″ stock, this is a big boy. In fact, in the official product literature, TOPS posits that this might be the largest production hatchet on the market. Whether or not that's the case, the High Impact definitely benefits from its burly dimensions. It can perform, and withstand big chopping jobs, while still remaining nimble enough to take care of the less demanding chores smaller hatchets and hand axes might be used for.

There are no surprises on the steel choice here: 1075 carbon. It's less common than 1095 in TOPS's lineup, but an obvious choice for a tool like the High Impact. It's a naturally impact-resistant steel, and that's a trait they further bolstered by heat treating it to a softer RC of 56-58.

The extra-long handle has an unusual profile. Beginning straight enough underneath the axe head, as it runs down it begins to curve upward in a hump before ending in a flared pommel. Tan canvas Micarta scales are laid on the full tang body; all in all the Impact weighs 58.8 oz. It's a hefty piece of steel for sure, but it's worth noting that the sheath – a leather blade cover – doesn't add much weight.

The High Impact has been floating around for several years, appearing every once in a while in prototype form. It's not surprising that we're finally seeing it in the wild, as TOPS is definely in the midst of a catch-up streak; the releases have been coming thick and fast since the Bestia debuted in February. The Filet Knife shortly followed, and then the Brush Wolf came out just last week.
The article is shared from Internet...
knifeglobal:
https ://knifeglobal.com