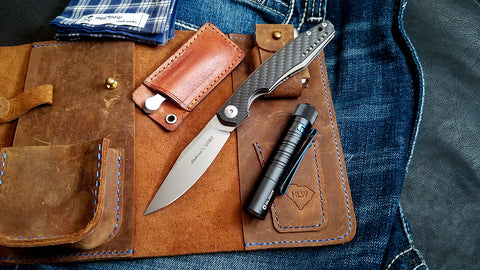 The Viper Belone is like you took a typically curvy Voxnaes design, stretched it out a bit, and then put it on a diet. The result is a slim, sleek cutting tool that's as totally elegant as it is efficient. Viper tells us, "The Danish designer Jesper Voxnaes started from lines typical of the Italian regional tradition to design the Belone: perfectly reworked according to modern and minimalist style, which made him famous in all over the world. The result is a light and tapered folding knife, embellished with refined details, such as the holes in the back of the handle."
Viper BeloneWe tried to nail down the traditional patterns that influenced the look of this knife a bit. We can see some hints of the Pattada in the lines, perhaps some Maresciall, and maybe a touch of Navaja maybe? Since we're by no means old Italian knife pattern experts, we quickly gave up guessing. What it truly boils down to is – this knife all Vox.
The Belone has a fat 3.3" M390 clip point blade with a ton of belly for a long slice. It has a blade thickness of 0.12" and it's hardened to a 60-61 HRC. Riding on a thrust ball bearing pivot, this manual flipper is beautifully balanced for a fast, easy action. It has a discreet flipper tab which not only helps keep the lines of this knife clean, but it also is one less thing to snag on your pocket.
Viper BeloneWith a handle thickness of about 0.44", it's a slim knife that practically disappears in your pocket. It's a linerlock with a plain stonewash finished, bronze anodized, or a blue anodized titanium frame. Additionally, those three models also are available with a carbon fiber overlay with the stonewash, blue or bronze anodized liners. The matching backspacer and the tip-up pocket clip are titanium. It's 4.575" closed and weighs 3.1 ounces.
Viper Belone Details
Bohler M390, Satin Finish
3.3" Clip Point
Viper Belone
0.12" Blade Thickness
60-61 HRC
Manual Flipper, Thrust Ball Bearing Pivot
Titanium Handles
Carbon Fiber Overlay, Select Models
0.44" Handle Thickness
Titanium Tip-Up Pocket Clip
3.1oz.
4.57" Closed
7.87" Overall
Made in Maniago, Italy