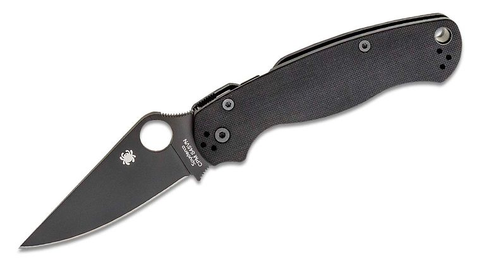 Available here at the KnifeCenter is the all black Paramilitary 2 folding combat knife. Why change something if it works? Because, at Spyderco, they practice the principle of C.Q.I. - Constant Quality Improvement. If they can refine and improve the ergonomics or cutting performance of an established model, they do it.

The Spyderco Paramilitary 2 tactical folding knife has several changes over the classic version. The G-10 handle is narrowed at the end improving the ergonomics. The handle and blade have been profiled thinner; removing uncomfortable angles when in the closed position. It features a Compression Lock and an ambidextrous-friendly four way clip which carries tip-up/tip-down, left/right-hand and rests deeper in a pocket. They kept the same high-performance CPM-S45VN full flat-ground blade but they've also lengthened the blade's tip and added additional surface jimping to both the spine and finger choil. Implementation of a new Bushing Pivot System generates fluid action and more consistent manufacturing tolerances. Larger lanyard gives more options for carry.

Refinements to overall construction may not be drastic or even visible to the eye but from the G-10 textured handle to the CPM-S45VN steel full flat black blade, everything is sharper, smoother and guaranteed to provide performance and user comfort.

Blade Length: 3 7/16" (87 mm)
Cutting Edge: 3 5/64" (78 mm)
Blade Thickness: 9/64" (3.5 mm)
Overall Length: 8 9/32" (210 mm)
Closed Length: 4 13/16" (122 mm)
Hole Diameter: 9/16" (14 mm)
Blade Steel: CPM-S45VN Premium Stainless Steel
Weight: 3.75 oz. (106 oz. )
Handle Material: G-10
Made in Golden, Colorado, USA.
The article is shared from Internet...
knifeglobal:
https ://knifeglobal.com