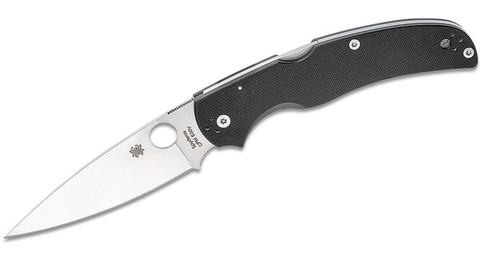 Spyderco
First released in 1997, the original Spyderco Native quickly set a high standard in affordable, full-service, lightweight folding knives. Purpose-designed to offer made-in-USA craftsmanship at an extremely affordable price, it was also the platform for introducing Spyderco's patented reversible "barrel-bolt" pocket clip.
As the Native's legions of devoted followers steadily grew, some end users began expressing interest in an extended version that would offer more blade length and better ergonomics for large hands. Inspired by that idea, in 1999 Spyderco created a prototype of a design they called the Native Chief, which maintained the pocket-friendly width of the Native but extended its overall length by nearly two inches. In true Spyderco style, they then took that prototype "on the road," displaying it at various trade shows and customer gatherings to elicit detailed feedback. They also continued their own in-house development, fine-tuning the design in an effort to fully realize its potential.
Although feedback on the design was very positive, making longer-bladed knives isn't as simple as it might seem. The longer the knife's blade, the longer the leverage arm and the more pressure applied to the lock mechanism. Sorting out these challenges was overshadowed by other priorities and other models, and ultimately the Native Chief ended up lying dormant for many years.
The tipping point in the story of the Native Chief was actually the development of the Native 5—the fifth-generation evolution of its progenitor. The highly refined Native 5 reflects more than two decades of real-world use, detailed customer feedback, and Spyderco's own relentless pursuit of Constant Quality Improvement (C.Q.I.). One of the defining characteristics of this model is its highly refined lockback mechanism. The culmination of years of meticulous research, development, and testing—as well as a significant investment in ultra-high-precision machinery—the Native 5's lockback redefined the state of the art in the engineering and execution of this deceptively simple mechanism. It was also the final ingredient needed to make the Native Chief a reality.
In simple terms, the Native Chief takes the proven design of the G10-handled Native 5 and extends it by nearly one-third its length overall, while increasing its blade length by an impressive 39 percent. Its full-flat-ground blade is crafted from CPM S30V stainless steel and includes a fully accessible Trademark Round Hole for swift, positive, one-handed opening with either hand. It also features a 50/50 index-finger choil and opposing sections of non-slip jimping (textured grooves) to allow the option of a forward-positioned "choked-up" grip for increased control.
Offering plenty of real estate for large hands, the Native Chief's ergonomic handle is built with peel-ply-textured G10 scales and a solid stainless steel backspacer. This elegantly simple construction creates a superior blend of balance and structural strength and provides support for the knife's highly refined lockback mechanism. Precision machined to exacting tolerances, it offers impressive strength, an exceptionally smooth action, a robust self-close function, and unparalleled resistance to wear and tear. To ensure the precise alignment and adjustment of all parts and allow the use of a four-position hourglass clip, the handle is assembled with flat-head Torx screws. The clip is anchored by four sets of threaded inserts in the scales and supports tip-up or tip-down carry on both sides of the body. When mounted to the butt end of the knife, it straddles a lanyard hole that allows the easy attachment of fobs, lanyards, and safety lines.
Specifications
Blade Length: 4.08" (104 mm)
Cutting Edge: 3.58" (91 mm)
Closed Length: 5.08" (129 mm)
Overall Length: 9.08" (231 mm)
Blade Thickness: 0.125" (3.2 mm)
Blade Material: CPM-S30V Stainless Steel
Blade Style: Drop Point
Blade Grind: Full Flat
Blade Finish: Satin
Blade Edge: Plain
Handle Material: Textured G10
Handle Color: Black
Locking Mechanism: Lockback
Pocket Clip: Tip-Up/Down, Left/Right Carry
Model Number: C244GP
Model Name: Native Chief
Weight: 3.9 oz. (111 g)
Made in the USA
The article is shared from Internet...
knifeglobal:
https ://knifeglobal.com