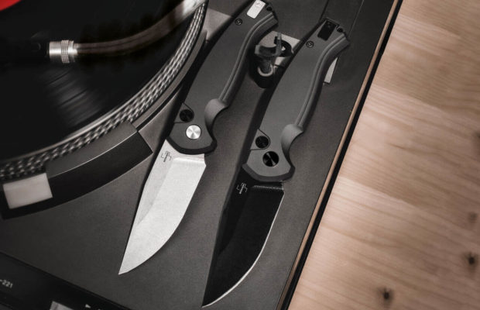 Jesper Voxnaes has a new knife coming out from Böker this year, the Karakurt. Named after an Eastern European spider, the Karakurt is the Voxnaes's second automatic with Böker, but it departs from its predecessor in terms of size and application.

Much like 2020's Kompakt, the Karakurt's headlining feature is its single action, automatic, button lock construction. Given the legal issues involved with automatic knife manufacture and shipping, Böker partners with U.S. manufacturers for their autos; the Karakurt is assembled by Hogue. The Karakurt's blade length is 3.07 inches, and its shape is a simple, straightforward drop point. These two elements add up to something well-suited for classic EDC jobs – including ones that would be beyond the capacity of the California-legal Kompakt – but thanks to the fast automatic deployment there's probably an element of tactical utility here as well.

The Hogue heritage also comes through on the blade steel, which is 154CM, a standby within their own lineup. 154CM is an oldie but a goodie with solid performance in every category.

Voxnaes's work always possessed a utilitarian core while managing to invoke a unique sensibility and style. Even on his most work-oriented blades, little touches give away the knife as a Voxnaes design. The Karakurt's handle definitely bears a similarity to the Kompakt's, but elongated and tweaked. It's slenderer in proportion to its blade, with a more pronounced finger groove, and a canted back end that functions like a bracket. All of these elements naturally help the Karakurt fulfill its all-purpose EDC remit. The handle material is aluminum, as is often the case with this style of automatic; the Karakurt weighs 3.35 oz. in total and comes with a reversible stainless steel pocket clip.

Böker seems fixed on making a play for the automatic market in 2021. No other major knife company seems as committed to the niche as the Solingen, Germany-based outfit. Their AK-74 model is prolific, and can be had in dozens of variations.
The article is shared from Internet...
knifeglobal:
https ://knifeglobal.com