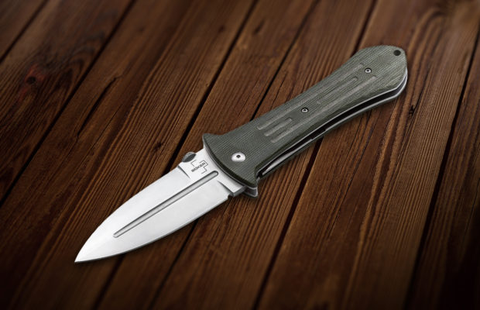 Our last two stories on Böker's new for 2021 knives focused on collaborations with outside makers Jesper Voxnaes and Lucas Burnley. For this last piece we're taking a look at two more in-house folders, the Kaizen and a folding version of the famous Smatchet fixed blade.
Folding Smatchet
Okay, the Pocket Smatchet isn't technically an in-house design, coming as it does from the historical smatchet fixed blade, designed by Rex Applegate and William Fairbairn for use by special forces in WWII; but Böker has been the premier production manufacturer working with the design since then, and now they're rolling it out in a folding variant.
The Pocket Smatchet retains the fixed blade's iconic, leaf-dagger blade shape, albeit shrunk down to a pocketable 3.74 inches. Obviously, this is a single-edged iteration, made from VG-10 and opened via ambidextrous thumb disk. The size reduction changes the Pocket Smatchet's particular remit but it retains a hard use, tactical element for sure. In terms of other materials, it falls onto the higher end of the Böker Plus lineup, with a sculpted pocket clip and green canvas micarta scales. Pocket clip or no, the Folding Smatchet is still a hefty boy at 7.03 oz.
Kaizen
The Kaizen is the latest design from Böker to find inspiration in the look and feel of Eastern swords. Its Japanese tanto showcases the way in this martial blade shape can become an EDC cutter when appropriately resized – in this case down to 3.03 inches. Böker made this blade from D2 steel, and it opens exclusively via a low profile front flipper tab.
This style of opening method means that the Kaizen's blade is almost completely concealed in the handle upon closing. The handle itself is made from G-10 with stainless steel liners (including the off-side locking leaf). The knife weighs 1.62 oz. and carries with a low-profile pocket clip.


The article is shared from Internet...
knifeglobal:
https ://knifeglobal.com