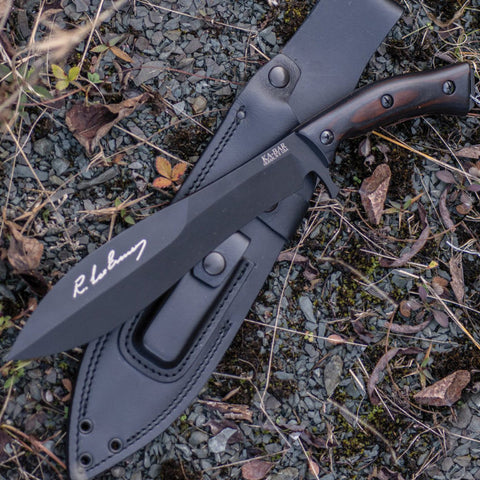 From KA-BAR: "Designed by R. Lee Ermey, also known as "The Gunny." This was the last project The Gunny worked on before his passing in 2018. Created to be used in any and all terrains and situations. A portion of sales of the Gunny Knife will be donated to the Fisher House Foundation, an organization that was near and dear to R. Lee Ermey." (KA-BAR photo)
R Lee Ermey Gunny Knife KA-BAR
(KA-BAR photo)
The Late Gunny's Final Knife Collaboration Was Certainly Not His Least.
KA-BAR Gunny Review
The KA-BAR Gunny is a hybrid design that resembles a bolo. I suspect R. Lee Ermey, the unforgettable Gunny who serves as the knife's namesake, spent some time in jungles because this combination chopper/slicer's performance is on par with village-forged bolos I've used in Southeast Asia, and that's a high compliment.

Its forward weight and terrific blade design promote efficient chopping. We cut through 3-to-4-inch-thick saplings with two strokes. We took down a tree with a 6-inch-thick truck just because we could.
After the chopping the blade was still sharp enough for camp kitchen work. The belly, good balance and fine edge combined to make slicing meat and vegetables a pleasure. Slashing hanging rubber hose and the water bottle were a piece of cake.
The comfortable handle lends itself both to heavy chopping and fine meat cutting, which is unusual.