James Brand is back with its first 2021 release, the Wayland. The Wayland is the company's third slipjoint effort and takes the extremely popular barlow pattern as its inspiration.

Even though it's filtered through James Brand's clean, modern aesthetic, the Wayland's barlow heritage is evident from tip to tail – starting with the EDC-oriented blade. Measuring 3 inches on the nose, it has a sheepsfoot profile not dissimilar from what we saw on the Pike last year. But, in addition to being almost an inch longer, the Wayland sports a notable upgrade in blade steel compared to its stablemate, benefiting from S35VN super steel instead of the Pike's capable, but undeniably more entry-level, 12C27N.

Instead of a standard traditional knife nail mark, James Brand gave the Wayland a larger, dished-out nail groove. This provides more purchase when opening the knife while also mirroring the cutouts on some of James Brands other folders, like the Folsom and the Ellis. The pivot uses phosphor washers, and naturally the Wayland is a non-locking tool.



The Wayland's nail mark differs somewhat from tradition
Looking at the handle, barlow nerds will be happy to see James maintained the oversized bolster, a core element of the pattern. Beneath the bolster is a 2/3rds scale made of one of several different materials, framed by a letterbox frame underneath. Potential buyers have their choice of three different material configurations: there's the flagship version, with a titanium bolster and rosewood scales, but two other variations swap out the titanium bolster for a steel one with a black PVD-coating. There's a black G-10 model, which also has a black coated blade, and a black Micarta model with a satin blade.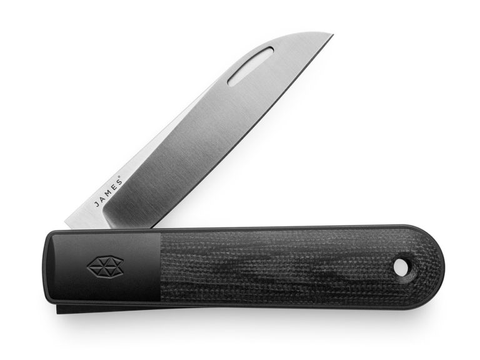 The black Micarta/steel bolster Wayland
It's also worth noting that the Wayland is put together like a modern knife, with standard hardware underneath its scales instead of a pin-style construction. The Wayland has a lanyard hole and carries loose in the pocket; it weighs 2.8 oz.

This is James Brand's first new model of 2021, and showcases an ongoing interest in the slipjoint category. Last fall they gave their County knife a subtle renovation in the form of the aforementioned Pike.


The article is shared from Internet...
knifeglobal:
https ://knifeglobal.com