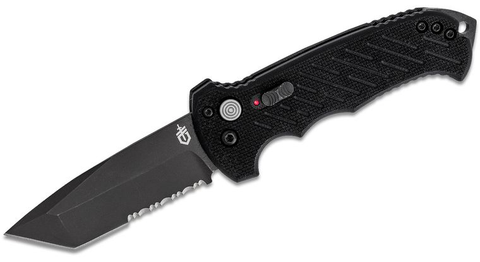 When our men and women overseas speak, Gerber listens. The Gerber 06 Automatic features an oversized release button for use with gloves, a slide safety that engages in both the open and closed positions, a stainless steel pommel with a strike point and a lanyard hole compatible with 550 cord. Featuring a partially serrated edge, tanto blade as well as a textured G10 handle, this knife offers a superiorly secure grip when working with the blade or the handle. The stainless steel blade is made with S30V, a premium stainless steel that stands up to incredible abuse while holding its edge with unbeatable retention. This fully automatic knife is easy to grip and has a pommel designed as a strike point for emergency egress. The large lanyard hole allows for 550 cord or webbing. Proudly made in Portland, Oregon.
Item # 30-000193
NSN 5110-01-516-3243
Overall Length: 8.5"
Blade Length: 3.80"
Closed Length: 4.80"
Weight: 6.30 oz
Handle Material: G10
Made in USA
The article is shared from Internet...
knifeglobal:
https ://knifeglobal.com