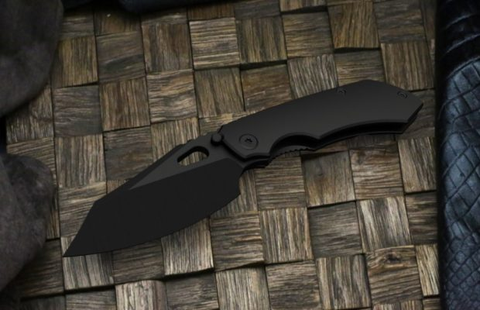 Today marks the return (in preorder form at least) of the Custom Knife Factory Evo, a collaboration with Jon Sorensen of Rotten.Design. This is the Evo 3.0, and it takes elements of both previous CKF Evo models and unites them in a new package.

The first CKF Evo came out in the fall of 2019, and, like many CKF products, it was a faithful adaptation of a custom knife of the same name. It marked the first time that Sorensen's work made the transition from sought-after customer to, well, sought-after production knife: the knife sold out quickly and a second version, the Evo 2.0, released at the beginning of this year to a similarly ravenous audience.

Both previous Evo models were plus-size folders with the usual CKF trimmings: titanium, zirconium, M390, etc.; but the first Evo model was larger than its follow-up. The Evo 3.0 returns to the dimensions of the 1.0, with a 3.74-inch blade and an overall length of 8.5 inches. That's a bit larger than the 2.0, which had a 3.6 inch blade and overall length of 7.95 inches, but the 3.0 is lighter than the 1.0. Its blade shape matches the 2.0, too, with its more pronounced tip; opening methods are a thumb stud (which doubles as a blade stop) and an oval cutout on the blade, and the blade steel is M390 once again.

The Evo 3.0's handle design falls very much in line with the 2.0's more streamlined design, which did away with most of the finger grooves on the original 1.0. However, there are some changeups here, including a more pronounced cutout on the show side scale to make disengaging the frame lock easier.

The Evo 3.0 is not expected to start shipping until August of 2022, but CKF is open for preorders. The preorder window will end on Monday, and there are no piece count restrictions; that is, CKF will make as many Evo 3.0 knives as are ordered. The knife is coming out in five different configurations, including a plain titanium model, one that is completely blacked out, and an extra premium damasteel model.
The article is shared from Internet...
knifeglobal:
https ://knifeglobal.com