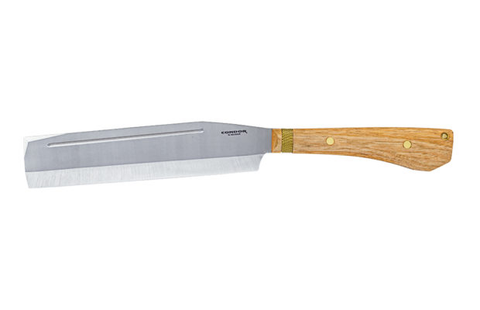 Condor Tool & Knife and designer Joe Flowers are bringing a new chopper knife to Blade Show, the Batonata. They modeled the Batonata after a Japanese woodcraft blade, but altered it in significant ways to create a different kind of tool.

The "Baton" part of the name "Batonata" is self-explanatory; the "nata" part nods towards the main inspiration for this fixed blade. The Batonata is Condor and Flowers's take on the nata, a Japanese bushcraft and forestry knife. Traditional nata designs vary in size and shape; the Batonata takes after those with a square, chisel-shaped blade. With its blade length of 10 inches, it is well spec'd for the kinds of work its name evokes: chopping, batoning, path clearing. Japanese natas come in both chisel and v grinds; Condor gave their take on the form a standard V-grind.

We've seen Condor quietly expand its steel repertoire in recent years, with more implementation of stainless steel than ever before. But given the Batonata's intended, demanding role, it made sense for them to default to their line standard 1075. While susceptible to corrosion, 1075 is quite tough and easy to maintain; sharpening or edge repair should be relatively painless with this steel.

Hickory wood scales cover the Batonata's full tang handle, which is devoid of finger grooves or traction patterns. the handle arcs from front to back, and ends in a large butt end; a cord wrapping below the edge provides additional security during use. A leather sheath is included, and the hefty Batonata weights 31.75 oz. total.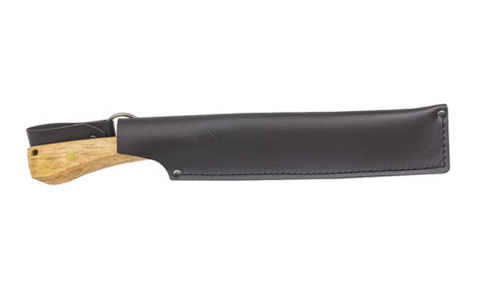 The Batonata in its leather sheath
The article is shared from Internet...
knifeglobal:
https ://knifeglobal.com