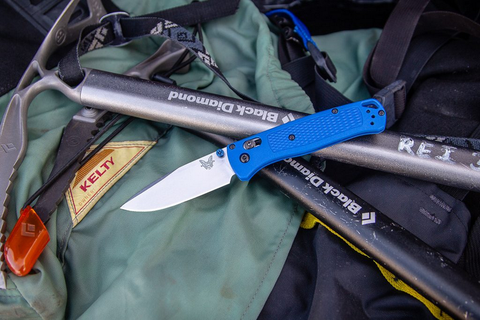 Some would call it the ultimate backpacking knife, others would say it makes the best EDC blade and one man at Blade HQ claims he can use it for #anything. If you haven't seen the Bugout yet, you've probably been living under a rock, but nevertheless, here is an overview of the knife, a look at our Blade HQ exclusive Benchmade Bugout Black 535 BK-1902 and a rundown of other colorways and variants.
Blackout
Blackout lovers rejoice! From its inception many asked if and when the Bugout would come in all black. Now it does!
For this Blade HQ limited exclusive, the Bugout is now offered with a full blackout design making it more usable as a tactical pocket knife. Its exceptionally lightweight Grivory handles, blade, thumb stud and titanium AXIS® lock mechanism come in a jet black finish. The drop point, flat grind blade is coated CPM-S30V steel providing both excellent edge retention and versatility for many tasks. The Black Bugout will be available mid-July 2019.
Shop Black Benchmade Bugout >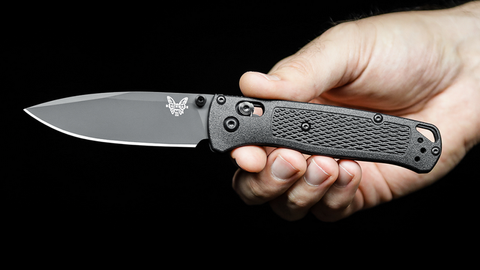 Bugout Overview
The Bugout was never meant to be a heavy-duty work knife. It wasn't designed to take on large jobs or to fill the roles of larger knives. That being said though, the knife is incredible despite its slim profile and light weight. It boasts a high strength-to-weight ratio thanks to its S30V blade and Grivory handles. It out performs other knives in its size and weight class and holds up to almost anything you throw at it. When Benchmade set out to make a lightweight (it only weighs 1.85 ounces!) knife, they wanted to produce something that would bode well with ounce-counting outdoorsmen and the like. The Bugout's slim profile is easy to slip into a pocket and almost forget it's even there. The drop point flat grind blade makes it a great slicer especially during tasks like preparing kindling and feather sticks while camping or opening boxes and letters at work. We've even tested the Bugout in the kitchen and funny enough, it actually works pretty well for prepping food.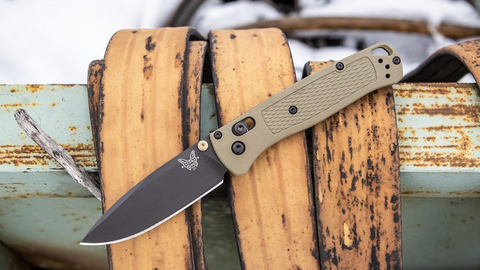 AXIS® Lock: The innovative AXIS Lock from Benchmade is fully ambidextrous, allowing for easy opening and closing with either hand. It utilizes Omega springs and a tension bar to ensure secure lock-up and fast action.
Grivory: Similar to Glass Filled Nylon (GFN), this polymer material is ultra-lightweight, and durable.
CPM-S30V: This well balanced steel is considered by some to be an up and coming industry standard as many brands including Benchmade are utilizing it for more and more products. Its excellent edge retention and corrosion resistance make it an amazing steel for knives that go wherever you go. With the Bugout's classification as a mid-duty knife, it's no wonder that the guys at Benchmade chose S30V for this knife.
Drop Point: The drop point blade is a universal, great all-around blade for cutting and slicing. Its convex curve from the tip to the spine of the blade makes it easy to identify.
Flat Grind: Consistent taper from the spine to the edge. Flat grinds are great for day-to-day use, and tend to be easier to maintain.
The article is shared from Internet...
knifeglobal:
https ://knifeglobal.com