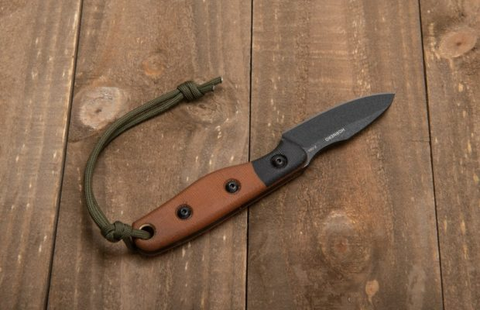 TOPS is bringing out a design from another first-time collaborator. The Hornero, a small knife with full-sized ergonomics from Argentinian designer Tomás Reynoso, is coming in hot this week.
The Hornero is the smallest fixed blade TOPS has put out so far in 2021; you'd have to go all the way back to last year's Mini Tanimboca Puukko to find something smaller. It's a 3-inch blade, with drop point fundamentals modified by a deep groove on the spine and a harpoon swedge. The idea was to create something ready to do a nearly-comprehensive list of indoor and outdoor tasks, short of heavy duty chopping and the like; the Hornero can snip, slice, whittle, gouge, and more. No surprises with the blade steel here: 1095 carbon graced with a black powder coating.
Reynoso's aim in creating the Hornero was to marry a compact blade with a full-sized handle. By bringing the blade length down as far as possible without sacrificing his knife's capabilities, he made room for a generous handle that doesn't impact the knife's carryability. The Hornero's roomy handle has a bellied-out midsection and shallow groove below the finger guard; these features, along with that spine side groove, provide lots of options for grip adjustment without being overly proscriptive.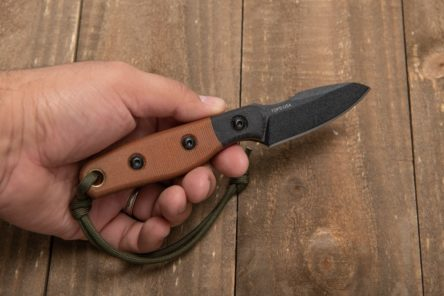 The Hornero's blade to handle ratio is deliberately skewed towards the latter
The wide frame is covered by two-tone canvas Micarta scales: black for the faux bolster, and tan for the rest of the handle. For the sheath material, the Hornero is getting good old fashioned Kydex, with a belt loop attachment included. The knife weighs 5.3 ounces in the hand, and 6.8 in the sheath.
The Hornero, like the Brush Wolf before it, marks the debut of another new TOPS collaborator, and is the first design by Tomás Reynoso to be put before a wide audience. Reynoso is an outdoor instructor, which undoubtedly influenced the utilitarian design of the Hornero, and a part-time knife maker/modder/designer.