The latest Custom Knife Factory release, the SM-Special, is now available. This is the third collaboration between CKF and Belarusian designer Alexey Vorobyov. Like all CKF knives the SM-Special comes with high end materials and premium finishing, but also packs in some details not seen on its luxurious stablemates.

Vorobyov, who also created the Kadat and MILK for CKF, has whipped up a mid-to-large-size EDC knife in the SM-Special. Its drop point blade shows off classical proportions, with belly, straight edge, and a durable tip all present and accounted for. The blade steel is M390, the CKF standard; its presence ensures good edge life and impressive stain resistance to keep the SM-Special's smooth satin finish looking good.

The SM-Special is a pure flipper, but with the key difference that the tab itself can be removed and replaced with one of two other (included) tabs. All three options function identically, but change the overall profile, in particular the extremely subdued low-profile option CKF and Vorobyov included.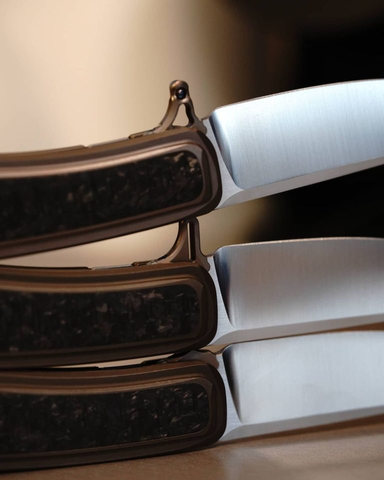 Three different flipper tabs let users modifiy the SM-Special to suit their tastes
The SM-Special's handle blends a very subdued, unembellished profile with flamboyant finishing and details. Taken as an outline, there are virtually no major ergonomic landmarks to note: just a little dip to demarcate the front and back portions of the handle. But the construction is typically lush, with a stepped titanium frame and, on the show side scale, a carbon fiber inlay. On the off-side scale, the sculpted titanium pocket clip is set into a centrally-located channel, and can be repositioned for either tip up or tip down carry (however, it's not reversible to the other side). The SM-Special is a liner lock knife and weighs 4.2 oz. total.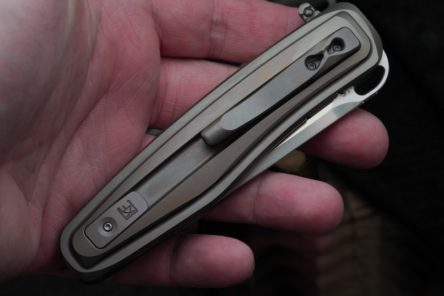 The SM-Special's reversible clip in its channel.
Like most companies big and small, CKF's 2020 was hampered by the COVID-19 pandemic. They seem to be picking up steam this year, however, with a slate of releases planned to follow the SM-Special. Seven more knives have been announced for later this year, including releases from Peter Rassenti and Alexey Konygin.
The article is shared from Internet...
knifeglobal:
https ://knifeglobal.com