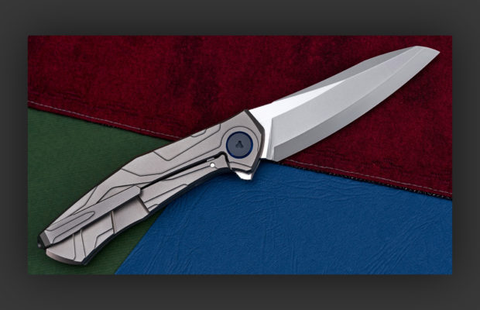 Shirogorov is back at it with a new limited run collaboration, this time with fellow superstar Russian maker Dmitry Sinkevich. The incoming knife is called the Kami, and it takes some cues from a previous design of Sinkevich's while making significant changes as well.

If you watch the high-high-end of the production scene, you might find the Kami's overall profile somewhat familiar. "We want to point out that the handle design and milling are not new," writes Shirogorov rep Tom. "Earlier a similar pattern was used in Dmitry's collaboration with Rockstead, called SHUN."

Thus the Kami has the same modified sheepsfoot blade – a familiar style in Sinkevich's general output – albeit sporting some notable alterations. The Shun's cutting edge was over 4 inches long, but the Kami's runs to just 3.42 inches. The steel has been altered as well, from ZDP-189 to S110V here on the Kami. S110V is a high performance super steel to be sure, and one that might be somewhat easier to sharpen than the notoriously obstreperous ZDP-189.

Finally, perhaps most notably, the grind has been altered. Rockstead's Shun came done up in a gleaming mirror finish; Shirogorov and Sinkevich took the Kami in a different, if not less impressive, direction. The front looks fairly traditional with its primary and secondary bevel, but the back has a tripartite compound grind, giving the Kami an asymmetrical look without affecting the actual cutting edge. "With the handle design this complex we just couldn't put a plain blade into this folder," notes Tom.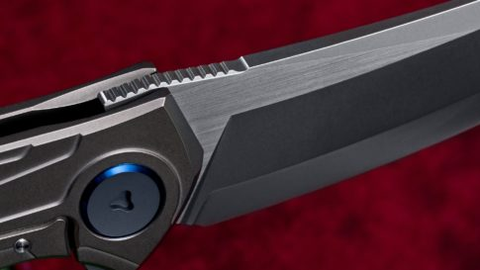 The tripartite grind on the Kami
That handle is fully titanium, with a frame lock and lock bar insert. Both front and back scales have been given a complex, angular milling pattern, and instead of standard backspacer or standoff construction, the Kami's sculpted titanium pocket clip pulls double duty, with two screws not only holding it in place for carry but also securing both scales. This reduces the amount of hardware and, along with the lightweight materials and some aggressive internal milling, keeps the Kami's weight well below the four-ounce mark at 3.46 oz. It's also worth noting that the entire setup is completely reversible, making carry easier for lefties.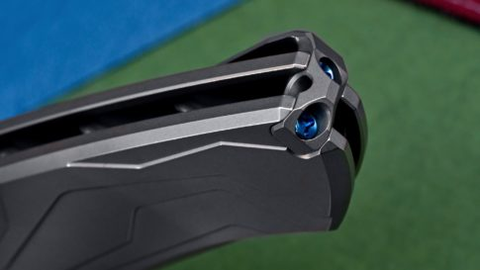 The Kami's pocket clip works as a backspacer too
The article is shared from Internet...
knifeglobal:
https ://knifeglobal.com