After some recent work in the multitool field, Gerber is back with another folder. This time they are rolling out the Fuse, a mid-sized user for budget-conscious customers.
The Fuse's visuals are in step with other current Gerber models, blending hard angles with recognizable, utility driven lines where it counts. The blade is a spear blade, or maybe a narrow drop point – either way, it brings a work-ready geometry to the table, with straight edge, belly, and a piercing tip all accounted for across its 3.38-inch cutting edge.
In its modern incarnation, Gerber has never been adventurous with its steel choices. But we have seen them outfit some recent releases with enthusiast-friendly steels: D2 on the budget side, and S30V for premium stuff. The Fuse is designed to hit a very low price point, and that means a return to less capable fare: 7Cr17MoV, a budget stainless with performance on par with that of 440A. It won't hold an edge for very long, but it will be easy to sharpen, and rust will be a non-issue.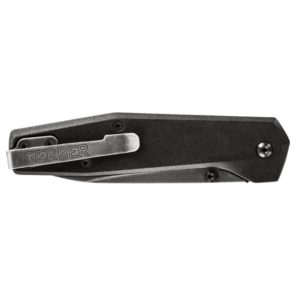 The Fuse's off side, with its deep carry pocket clip.
The Fuse's angles give it a visual panache, but they don't complicate the handle profile itself. This is a handle similar to that on the Flatiron or the Fastball, with a small humpback and a large finger guard. The handle material is GFN, with a textured stainless steel inlay on the show side scale. Beneath the off side scale there's a liner lock, with a bit of exposed ridgework to make disengaging it easier. The Fuse's deep carry pocket clip is non-reversible, and it weighs 2.83 oz.
The Fuse marks Gerber's return to standard folders after some recent interesting detours. In the spring they expanded their Armbar multitool line, and before that they dropped the Doubledown, a gigantic "outdoors balisong" that really is in a category unto itself.
The article is shared from Internet...
knifeglobal:
https ://knifeglobal.com