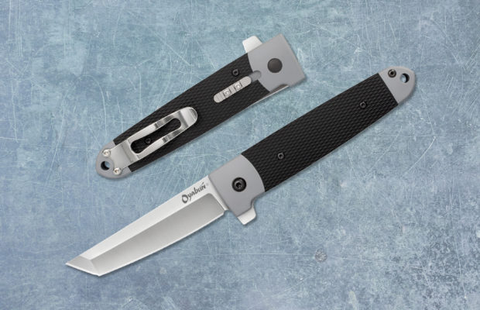 Cold Steel has put out a typically massive 2021 catalog. This is an important year for the company, the first under its new owners GSM Outdoors, who we spoke to at the end of last year after their surprise acquisition of the company. To be fair, the 2021 products were already in place when GSM took the reigns, but there's no doubt that now is a good time for them to make the right impression going forward.


The catalog covers diverse categories, but features more fixed blades than folders; most of the new folders are expansions to current Cold Steel blades rather than entirely new models.

Range Boss

The Range Boss looks to be descended from the Broken Skull, albeit geared into an introductory price range, with corresponding material adjustments. It has a Zy-Ex handle available in several colors, and a 4-inch clip point blade made from 4034 steel, a basic stainless comparable to 420HC.

Oyabun

Cold Steel's Tanto Fixed Blade is a company mainstay; this year, it's getting a folding sequel called the Oyabun. This knife is a 3.5-inch tanto flipper, available in two different configurations. The standard model has 4034 blade steel and Griv-Ex scales; a Lynn C. Thompson Signature edition will also be available for a time. Restricted to 3,500 pieces, this version has S35VN blade steel, an aluminum frame and bolsters, and G-10 scales.

Both versions of the Oyabun utilize the same liner lock with secondary safety that Cold Steel debuted on the Crawford Model 1.

Double Safe Hunter Slock Master and Scalper Slock Master

Cold Steel tapped bow hunter Tim Wells for multiple 2021 collaborations. First up is the Slock Master, a folding knife based on the Double Safe Hunter, but with a red handle and new drop point blade shape made to Wells's specifications. Wells also put his name on the Scalper Slock Master, an outdoors fixed blade with a 6.5-inch drop point shape. It's a different drop point profile than that on the folder, and made from 4116 steel instead of 8Cr13MoV.

Drop Point Voyagers

The venerable Voyager series, always an accommodating platform for different blade shapes, is getting a new drop point variation. Available in Large (4 inch) and XL (5.5 inch) configurations, these are wide drop points with ample belly; like all recent Voyagers, they're made from AUS-10A steel.

AD-15 Lite

Released in 2019, Cold Steel's version of Andrew Demko's AD-15 marked the first time the Scorpion Lock mechanism appeared in a production format. The knife settled on the premium end of Cold Steel's catalog, so this year they're presenting a second, more affordable Lite version. The dimensions and headlining lock remain the same, but there are material switches on the handle, from G-10/Aluminum to Griv-Ex, and the steel, which is now AUS-10A instead of S35VN.

Mini Leatherneck

Cold Steel's Leatherneck fixed blade series is moving in an unusual direction this year with the Mini Leathernecks. Available in clip, tanto, or double edge dagger blades, these little fixed blades bring the sizable original's profile down to a 3.5-inch blade length that is, frankly, pretty adorable. The blade steel on the Mini Leathernecks is 8Cr13MoV, no matter which variation you opt for.

Kyoto Series

Alongside the loveable Mini Leathernecks we're getting the equally cute Kyoto knives, which emulate classic Japanese fixed blades – right down to the rare appearance of a traditional tanto in the Cold Steel lineup (although it's available in their American-style tanto too). The blade length on both models is 3.38, and the blade steel is 8Cr13MoV.

New Click-N-Cut Knives

The Click-N-Cut knives can swap out their blades, letting users select a specific shape for the job at hand. The Click-N-Cut Hunter comes with blade options suited to that purpose, as does the Tim Wills-designed Click-N-Cut Slock Master. Finally, there's the more universal and utilitarian Click-N-Cut Folder, which comes with durable drop point and serrated wharncliffe blades.

Drop Forged Bowie

Cold Steel's ongoing SK-5 Drop Forged series gets its biggest-ever release in the form of this bowie. You're looking at a 9.5-inch clip point blade, of a piece with its handle, which sports a full guard and even has faux stag handle inlays.

Chaos Push Knife

Inspired by trench knife design, the Chaos series gets its most uncoventional release this year in the form of the Chaos Push Knife, which appends a 5-inch dagger blade to the D-frame trench knife handle. Further embellishments come in the form of twin skull crushers – one on each side of the frame.

3V Fixed Blades

A slew of classic Cold Steel fixed blades will receive 3V steel variants: on deck for the durable tool steel are the Recon Scout, Trail Master, Laredo Bowie, Natchez Bowie, and Gurkha Kukri Plus.



The article is shared from Internet...
knifeglobal:
https ://knifeglobal.com