Böker continues to roll out new automatic knives; their latest project in the genre is something quite different. The Böker Plus OTF Pen combines two different EDC tools, adding an automatic blade to a durable pen design.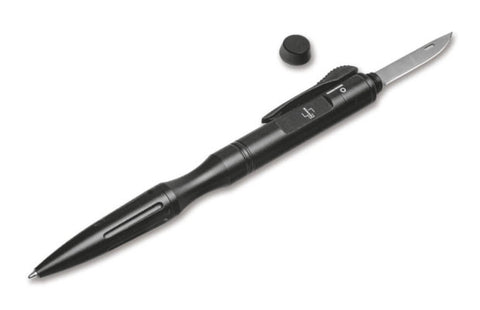 If you had to draw up a product based on the name "OTF Pen," you'd probably come up with something similar to Böker's creation. The pen itself is made from aluminum, with a chassis that echoes other "tactical" pens in the Böker lineup; the narrow waist flares out again towards the pen tip, creating an almost kubaton-like profile. The pen itself, a ball point, is deployed by twisting the pen barrel.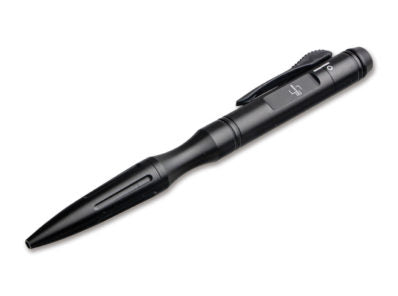 But the main selling point (pun intended) on the OTF pen is found at the opposite end. After the end cap is unscrewed, users can then deploy an automatic blade by pressing up on the pocket clip; pushing it in the other way retracts the blade again. The blade is a tiny drop point, measuring 1.57 inches long – so this is a backup knife, suited for little, unexpected cutting chores and not intended as a complete EDC package. Sometimes with these novelty-style products, blade steel is neglected – but enthusiasts will be glad to hear Böker chose to make the OTF Pen's blade from D2 semi stainless, so the little knife should hold an edge for quite a while.

Due to the legal issues surrounding the format, all of Böker's recent automatic projects have been made with help from OEMs in the USA. One of Böker's go-to partners for automatics is CobraTec, a Texas-based shop that put together the Kwaiken OTF and a new Balisong release. CobraTec makes an OTF pen of its own, and the Böker knife bears a strong family resemblance to that product.
The article is shared from Internet...
knifeglobal:
https ://knifeglobal.com