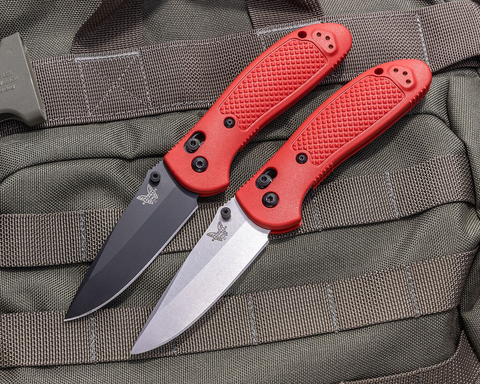 Since its inception in 2001, the Griptilian has planted its flag as one of Benchmade's most popular platforms. This classic design has been updated with an entirely new look featuring red glass-filled nylon handles, black hardware, and two blade finish options created exclusively for KnifeCenter. The blade steel has also been upgraded on this model to CPM-20CV stainless steel. CPM-20CV is virtually identical in chemical composition to Benchmade's current M390 steel but is made in the US by Niagara as opposed to Bohler which is based Austria. It offers better edge retention but is not quite as tough to resharpen as M390.
Ambidextrous Thumb-Stud Opener
Lightweight GFN Handle
Drop Point Blade Shape
Multiple Configurations Available
Country of Origin: USA
AXIS A patented Benchmade exclusive, AXIS has been turning heads and winning fans ever since its introduction. A 100-percent ambidextrous design, AXIS gets its function from a small, hardened steel bar which rides forward and back in a slot machined into both steel liners. The bar extends to both sides of the knife, spanning the liners and positioned over the rear of the blade. It engages a ramped, tang portion of the knife blade when it is opened. Two omega-style springs, one on each liner, give the locking bar it's inertia to engage the knife tang, and as a result, the tang is wedged solidly between a sizable stop pin and the AXIS bar itself.
Blade Length: 3.45" (8.76 cm)
Blade Thickness: 0.115" (2.921 mm)
Blade Material: CPM-20CV Stainless Steel
Blade Hardness: 59-61HRC
Blade Style: 551 Modified Drop-Point; Ambidextrous Thumb-Studs
Blade Finish: Black Cerakote
Weight: 3.88 oz. (110.00 g)
Clip: Reversible, Tip-Up
Lock Mechanism: AXIS
Overall Length: 8.07" (20.50 cm)
Closed Length: 4.62" (11.73 cm)
Handle Thickness: 0.64" (16.26 mm)
Class: Blue
Made in the USA
The Kami's pocket clip works as a backspacer too
The article is shared from Internet...
knifeglobal:
https ://knifeglobal.com